Innovation and District around a "Miracle': Configuration of the local productive system in intensive agriculture in Almeria
Keywords:
Productive Agglomeration, Mediterranean Intensive Agriculture, Industrial District, Agriculture Industrial Cluster
Abstract
During the last decades of the 20th century, the Spanish intensive fruit and vegetable production sector has brought about relevant territorial concentrations in specific arcas along the Mediterranean coast. The locations for these agriculturally generated productive systems are the consequence of environmental, historic, economic, and institutional conditions. The case of intensive agriculture in southeast Andalusia helps to understand the correspondent character, the two-directional effects, of the relationship between the agricultural sector and the industrial sector which provides it inputs and services. Furthermore, agriculture in Almeria proves the fact that agglomeration economies and Porter like cluster dynamics can be well established and sustained based on non-industrial sectors or activi¬ties. This article analyzes components of the agricultural-industrial cluster, as well as its evolutionary behavior. Finally, it can be concluded whether this productive agglomeration meets the requirements of an industrial district.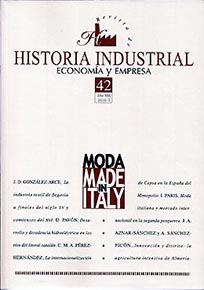 Downloads
License
El/la autor/a cede los derechos al/la editor/a. Creative Commons
El/la autor/a que publica en esta revista está de acuerdo con los términos siguientes:
El/la autor/a cede en exclusiva todos los derechos de propiedad intelectual al/la editor/a para todo el mundo y toda la duración de los derechos de propiedad intelectual vigentes aplicables.
El/la editor/a difundirá los textos con la licencia de reconocimiento de Creative Commons que permite compartir la obra con terceros, siempre que éstos reconozcan su autoría, su publicación inicial en esta revista y las condiciones de la licencia.