Oligopolistic agreements between the two main companies in a sector. The case of MZA and NORTE
Keywords:
history, railway, NORTE, MZA
Abstract
The Spanish railway sector has been widely studied from various perspectives, due to the important role it has played in economic progress. This research focuses on a unique aspect, in the oligopolistic agreements reached by the two most important Spanish companies in the sector. The object of this investigation is the two largest private railway companies in Spain: NORTE and MZA. The main conclusion of the work is that, in 1906, NORTE and MZA established one of the first joint ventures in history between two companies to dominate a sector.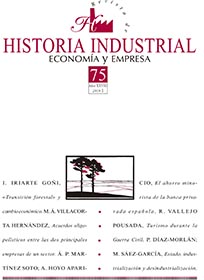 Downloads
License
El/la autor/a cede los derechos al/la editor/a. Creative Commons
El/la autor/a que publica en esta revista está de acuerdo con los términos siguientes:
El/la autor/a cede en exclusiva todos los derechos de propiedad intelectual al/la editor/a para todo el mundo y toda la duración de los derechos de propiedad intelectual vigentes aplicables.
El/la editor/a difundirá los textos con la licencia de reconocimiento de Creative Commons que permite compartir la obra con terceros, siempre que éstos reconozcan su autoría, su publicación inicial en esta revista y las condiciones de la licencia.