The Spanish economic backwardness in the European mirror (1813-1914)
Keywords:
Economic Backwardness, Economic Divergence, Spain, Historiography Debate
Abstract
This paper approaches the issue of the relative Spanish economic backwardness during the 19th century. Along its pages, quantitative evidences presented by the Spanish economic historiography are displayed and they show the poor or slow performance of the country's economy during this period. Nevertheless, the big question has not only centered on the numbers but in its reasons. From those to blame it on the agriculture, passing through those interpretations that, on the contrary, emphasize the responsibility of the industry and entrepreneurs, there is a vivid, intense and sometimes exciting debate among Spanish economic historians around the subject.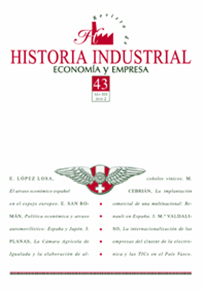 License
El/la autor/a cede los derechos al/la editor/a. Creative Commons
El/la autor/a que publica en esta revista está de acuerdo con los términos siguientes:
El/la autor/a cede en exclusiva todos los derechos de propiedad intelectual al/la editor/a para todo el mundo y toda la duración de los derechos de propiedad intelectual vigentes aplicables.
El/la editor/a difundirá los textos con la licencia de reconocimiento de Creative Commons que permite compartir la obra con terceros, siempre que éstos reconozcan su autoría, su publicación inicial en esta revista y las condiciones de la licencia.