The commercial establishment of a multinational: the case of Renault in Spain (1908-1951)
Keywords:
Automobile Industry, Multinational Corporations, Subsidiaries, Spain
Abstract
Renault's experience in Spain is a significant success story for the internationalisation strategy that the company has pursued síncc its beginning. Renault's presence in Spain dates back to 1908, when the sales subsidiary SAEAR was created. Until the end ofthe 1920s, SAEAR performed well. However, añer the crisis of 1929 there were a lot of problems caused in part by poor fiscal management, abad coordination between Renault and SAEAR and, in part, by a number of'wrongheaded pclicies pursued by the Spanish govemment ofthe era. Despite these difficulties, Renault ultimately decided to maintain its presence in the Spanish market with the continued sale of imported vehicles from France until1951, when the subsidiary FASA was established in Valladolid as a consequence of the difficulty in maintaining importing practices.
Downloads
Download data is not yet available.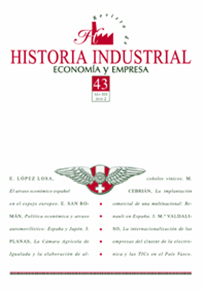 Downloads
License
El/la autor/a cede los derechos al/la editor/a. Creative Commons
El/la autor/a que publica en esta revista está de acuerdo con los términos siguientes:
El/la autor/a cede en exclusiva todos los derechos de propiedad intelectual al/la editor/a para todo el mundo y toda la duración de los derechos de propiedad intelectual vigentes aplicables.
El/la editor/a difundirá los textos con la licencia de reconocimiento de Creative Commons que permite compartir la obra con terceros, siempre que éstos reconozcan su autoría, su publicación inicial en esta revista y las condiciones de la licencia.