The perception of socioeconomic change at the end of the 18th century: spanish enlightened travellers in England
Keywords:
England, Enlightenment, Spanish Travel Books, Industrial Revolution
Abstract
The England of the late eighteenth century, which was economically the most dynamic country in Europe and where the industria] revolution were already beginning, was rarely visited by Spanish Iraveliers despite its obvious appeal. In this paper we am to analyze, from a socioeeonomic sl;IIltl the main S trziv-cl boo]cs un England ve knuw Iud (Iw Antonio Punz, the Marquis of Ureña and Leandro Femandez de Moratin). I gua! is to see how these three prominent Spanish enlightened authors perceived the unprecedented Iransformation that it was occurring in the cited counlry in that moment. Although they are necessaiily partial and incomplete, these insights give us a vivid and clear picture of the change that was taking place there, higblighting especially sorne contrasts with regard to the Spanish case.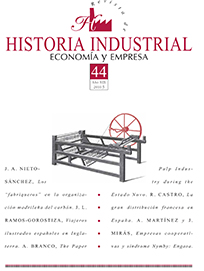 Downloads
License
El/la autor/a cede los derechos al/la editor/a. Creative Commons
El/la autor/a que publica en esta revista está de acuerdo con los términos siguientes:
El/la autor/a cede en exclusiva todos los derechos de propiedad intelectual al/la editor/a para todo el mundo y toda la duración de los derechos de propiedad intelectual vigentes aplicables.
El/la editor/a difundirá los textos con la licencia de reconocimiento de Creative Commons que permite compartir la obra con terceros, siempre que éstos reconozcan su autoría, su publicación inicial en esta revista y las condiciones de la licencia.