The Mengemor Company during the Spanish Civil War (1936-1939)
Keywords:
Spanish Civil War, Electricity, Production, Business History
Abstract
The history of the electric company Mengemor during the Spanish Civil War (1936-1939) is interesting in that it was one of the main electric companies in Spain, and its management and installations were divided during the conflict, and a large part of these were on the front line.
For each side in the conflict (the republicans and the nationalists) the following will be analyzed: how they were managed and by whom, the state of the installations, how they were repaired, and the electricity which was produced. In general, production grew in both zones. This can be explained by good management and the scarce damage inflicted on the installations.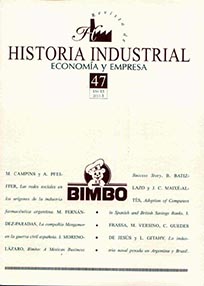 Downloads
License
El/la autor/a cede los derechos al/la editor/a. Creative Commons
El/la autor/a que publica en esta revista está de acuerdo con los términos siguientes:
El/la autor/a cede en exclusiva todos los derechos de propiedad intelectual al/la editor/a para todo el mundo y toda la duración de los derechos de propiedad intelectual vigentes aplicables.
El/la editor/a difundirá los textos con la licencia de reconocimiento de Creative Commons que permite compartir la obra con terceros, siempre que éstos reconozcan su autoría, su publicación inicial en esta revista y las condiciones de la licencia.