The Bread of the Americas. Bimbo: A Mexican Business Success Story, 1944-20101
Keywords:
Industria panificadora, Empresa familiar, Historia Empresarial Mexicana, Emigración española
Abstract
This article revises the development of Bimbo from its creation in 1944 up to the crisis that started in 2008. The objective is to clarify the causes of the worldwide success of this company that was born in an emerging economy under hostile conditions. The theory proposed in this article is that this success is due to several factors: the organizing techniques used, the policy of growth through vertical integration, the good relationship with trade unions, its economies of range and a correct and patient internationalization strategy. Furthermore, the article reveals the role Mexican businessmen played in the spread of American managerial innovations to Spain since 1960.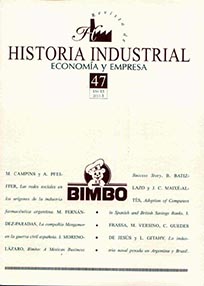 Downloads
License
El/la autor/a cede los derechos al/la editor/a. Creative Commons
El/la autor/a que publica en esta revista está de acuerdo con los términos siguientes:
El/la autor/a cede en exclusiva todos los derechos de propiedad intelectual al/la editor/a para todo el mundo y toda la duración de los derechos de propiedad intelectual vigentes aplicables.
El/la editor/a difundirá los textos con la licencia de reconocimiento de Creative Commons que permite compartir la obra con terceros, siempre que éstos reconozcan su autoría, su publicación inicial en esta revista y las condiciones de la licencia.