Provincial differences in well-being in Spain in 20th century
Keywords:
Regional Disparities, Well-being, Regional Convergence, Spatial Econometrics
Abstract
By using three indicators of the standard of living (income per capita, the Human Development Index and the Physical Quality of Life Index), this article provides new information regarding the evolution of the differences in well-being between the Spanish provinces throughout the 20th century. The results reveal that the disparities were enormous at the beginning of the century, after which a highly significant process of convergence took place, which was comparatively lower in terms of income per person than it was with respect to the HDI or the PQLI. Another noteworthy finding is that, irrespective of the indicator used, the well-being of each province is significantly influenced by that of its neighbours throughout the whole of the period analysed.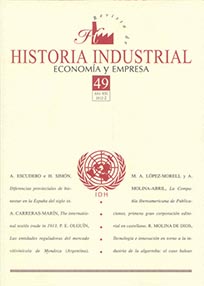 Downloads
License
El/la autor/a cede los derechos al/la editor/a. Creative Commons
El/la autor/a que publica en esta revista está de acuerdo con los términos siguientes:
El/la autor/a cede en exclusiva todos los derechos de propiedad intelectual al/la editor/a para todo el mundo y toda la duración de los derechos de propiedad intelectual vigentes aplicables.
El/la editor/a difundirá los textos con la licencia de reconocimiento de Creative Commons que permite compartir la obra con terceros, siempre que éstos reconozcan su autoría, su publicación inicial en esta revista y las condiciones de la licencia.