The Compañía Iberoamericana de Publicaciones, the first publishing corporation in spanish language
Keywords:
Publishing, Integration, Internationalization, Managing Innovations
Abstract
The Compañía Iberoamericana de Publicaciones (CIAP) was a Spanish book publishing house of unprecedented proportions. It appeared on the scene during the first third of the twentieth century at a time when winds of modernization were blowing through the book industry, which was acquiring characteristics that, for the first time, would lead to talk about «capitalism in publishing». The CIAP revolutionized the Spanish book publishing market with a series of initiatives that were ahead of its time, for example, long-term exclusivity contracts with authors, which would serve to dignify the profession of writers in Spain. Other examples include the intensive use of advertising and the introduction of literary awards. Nevertheless, this business experiment was to end in a spectacular bankruptcy that swept away the Bauer banking house and showed up the real potential of the sector.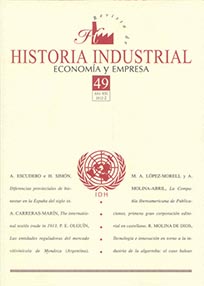 Downloads
License
El/la autor/a cede los derechos al/la editor/a. Creative Commons
El/la autor/a que publica en esta revista está de acuerdo con los términos siguientes:
El/la autor/a cede en exclusiva todos los derechos de propiedad intelectual al/la editor/a para todo el mundo y toda la duración de los derechos de propiedad intelectual vigentes aplicables.
El/la editor/a difundirá los textos con la licencia de reconocimiento de Creative Commons que permite compartir la obra con terceros, siempre que éstos reconozcan su autoría, su publicación inicial en esta revista y las condiciones de la licencia.