British and Spanish entrepreneurs: The origins of their initial capital (c. 1800- c. 1939)
Keywords:
entrepreneurs, initial capital, banking, marriage, prudence
Abstract
This paper uses a large sample of British and Spanish entrepreneurs to determine the origin of their initial capital between 1800 and 1939, with emphasis on the role played by banks. The sources are, for England, the Dictionary of Business Biography edited by David Jeremy, and, for Spain, regional compendia of short biographies. The study shows, among other results, the importance of marriage and other extra-economic sources for the Spanish entrepreneurs during the nineteenth century, and the absence of banking in supporting the initial capital needs of entrepreneurs, both British and Spanish, throughout the time covered by the study. The most important difference between the two countries is the possibility of most British entrepreneurs to get initial capital from informal capital markets.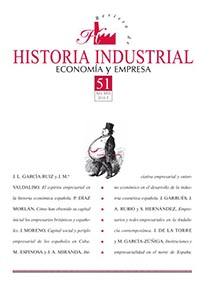 Downloads
License
El/la autor/a cede los derechos al/la editor/a. Creative Commons
El/la autor/a que publica en esta revista está de acuerdo con los términos siguientes:
El/la autor/a cede en exclusiva todos los derechos de propiedad intelectual al/la editor/a para todo el mundo y toda la duración de los derechos de propiedad intelectual vigentes aplicables.
El/la editor/a difundirá los textos con la licencia de reconocimiento de Creative Commons que permite compartir la obra con terceros, siempre que éstos reconozcan su autoría, su publicación inicial en esta revista y las condiciones de la licencia.