«Padre bodeguero, hijo caballero»: Social capital and the business trajectory of the spanish in Cuba, 1898-1958
Keywords:
Immigration, business success, Spanish minorities, social capital, Economic History of Cuba
Abstract
In this study an effort is made to explain the keys to the business success of Spanish immigrants in Cuba in the first half of the twentieth century, using as its basis the theoretical developments in social capital. The text measures the extent of this greater business luck with respect to economic opportunities in Spain, describes the professional integration process in Cuba and even quantifies the degree of integration of women in the world of work. Furthermore, a revision is made of the keys to this success and the business weaknesses attributed to the Spanish are questioned in light of those keys: economies of enclave created by the Spanish minorities themselves, institutions that were even stronger than the Cuban ones —typical of those of a weak state in construction— along with the solidarity that their common citizenship offered them.
Downloads
Download data is not yet available.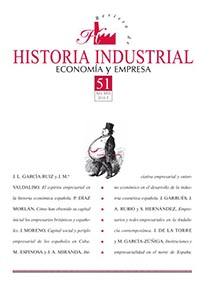 Downloads
License
El/la autor/a cede los derechos al/la editor/a. Creative Commons
El/la autor/a que publica en esta revista está de acuerdo con los términos siguientes:
El/la autor/a cede en exclusiva todos los derechos de propiedad intelectual al/la editor/a para todo el mundo y toda la duración de los derechos de propiedad intelectual vigentes aplicables.
El/la editor/a difundirá los textos con la licencia de reconocimiento de Creative Commons que permite compartir la obra con terceros, siempre que éstos reconozcan su autoría, su publicación inicial en esta revista y las condiciones de la licencia.