Germaine de Capuccini: entrepreneurship and socioeconomic environment in the development of the cosmetics industry in Spain
Keywords:
Business History, entrepreneurship, cosmetics industry, Spain
Abstract
This article analyses entrepreneurial initiative and its success through a case study. The study examines the trajectory of the company Germaine de Capuccini within the context of an expanding cosmetics industry in Spain over the last fifty years. It shows the strong influence of the economic, social and institutional environment on what seems to be a paradigmatic case of a Schumpeterian entrepreneurial initiative. Firstly, it examines the evolution of the sector until the creation of the company at the end of the 1960s. Then it explains the inception of Germaine de Capuccini and its initial growth strategy. Thirdly, it analyses the company's expansion process and that of the Spanish cosmetics industry from the 1980s. Finally, conclusions are drawn with respect to the influence of the environment on the entrepreneurship.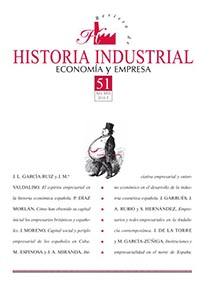 Downloads
License
El/la autor/a cede los derechos al/la editor/a. Creative Commons
El/la autor/a que publica en esta revista está de acuerdo con los términos siguientes:
El/la autor/a cede en exclusiva todos los derechos de propiedad intelectual al/la editor/a para todo el mundo y toda la duración de los derechos de propiedad intelectual vigentes aplicables.
El/la editor/a difundirá los textos con la licencia de reconocimiento de Creative Commons que permite compartir la obra con terceros, siempre que éstos reconozcan su autoría, su publicación inicial en esta revista y las condiciones de la licencia.