Entrepreneurs and business networks in contemporary Andalucia
Keywords:
Entrepreneurship and Social Networking, Business History, Regional Studies, Andalusia
Abstract
In recent years there has been renewed interest toward the entrepreneur and its role in economic development. In the case of Spain, but especially in the less developed regions such as Andalusia, the entrepreneur has been identified as responsible for economic backwardness. This paper is an approach to the long-term study of Andalusian entrepreneurship. We have applied the methodology of social network analysis to the documentation of incorporation contained in official records between the years 1886 and 1959. This has verified the presence of major business creation networks acting in all productive sectors of the region, constituting an endogenous entrepreneurial drive regardless of the actions of entrepreneurs and foreign companies.
The study of the personal characteristics of network members and their comparison with those of employers who did not participate in them suggests that the networks included the most dynamic
entrepreneurs. Among network members was an important presence of owners and college graduation, specially law graduates and engineers. It has also identified the importance of family ties in the configuration of business networks.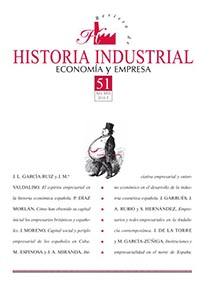 Downloads
License
El/la autor/a cede los derechos al/la editor/a. Creative Commons
El/la autor/a que publica en esta revista está de acuerdo con los términos siguientes:
El/la autor/a cede en exclusiva todos los derechos de propiedad intelectual al/la editor/a para todo el mundo y toda la duración de los derechos de propiedad intelectual vigentes aplicables.
El/la editor/a difundirá los textos con la licencia de reconocimiento de Creative Commons que permite compartir la obra con terceros, siempre que éstos reconozcan su autoría, su publicación inicial en esta revista y las condiciones de la licencia.