Institutions and entrepreneurship in the north of Spain, 1885-2010
Keywords:
Entrepreneurship, Entrepreneurship Indicators, Institutions, Regional Economic
Abstract
This paper addresses entrepreneurship in northern Spain between 1885 and 2010. We review first the theoretical and empirical literature and their use by economic historians. Then, from a Schumpeterian perspective, we make a longitudinal study of business creation rates in the Basque Country, Navarre, La Rioja, and Saragossa during this period. The aim is to make a comparative analysis with the Spanish rate to observe provincial differences in business creation. Finally, the role of regional and provincial governments as a source of incentives and opportunities for business is considered. The economic success of Álava and Navarre lay partly in their special economic and administrative systems —quite different from the rest of Spain— which offered tax incentives for business to locate there and therefore stimulated greater entrepreneurship.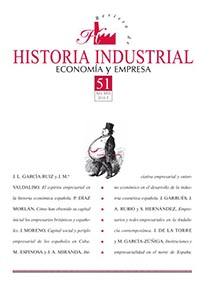 Downloads
License
El/la autor/a cede los derechos al/la editor/a. Creative Commons
El/la autor/a que publica en esta revista está de acuerdo con los términos siguientes:
El/la autor/a cede en exclusiva todos los derechos de propiedad intelectual al/la editor/a para todo el mundo y toda la duración de los derechos de propiedad intelectual vigentes aplicables.
El/la editor/a difundirá los textos con la licencia de reconocimiento de Creative Commons que permite compartir la obra con terceros, siempre que éstos reconozcan su autoría, su publicación inicial en esta revista y las condiciones de la licencia.