State, industrialization and deindustrialization. Spanish steel policies in the second half of 20th century
Keywords:
steel industry, restructuring policy, Spanish indicative planning, economic interventionism
Abstract
Between the end of the civil war and the last decade of the twentieth century, the steel sector was the subject of major state intervention. Until the mid-1970s, the Spanish government's primary objectives were the expansion and modernization of the sector; to the contrary, from then until the mid-1990s, steel policies were reoriented to deal with the problems of overcapacity and a lack of competitiveness affecting the main companies. The objective of this work is to analyse, from primary sources, steel policies from 1964 to 1998 and their influence on the development of the sector. The results are also compared with the prevailing ideas in historical and economic studies that have dealt with this issue.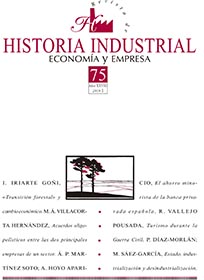 Downloads
License
El/la autor/a cede los derechos al/la editor/a. Creative Commons
El/la autor/a que publica en esta revista está de acuerdo con los términos siguientes:
El/la autor/a cede en exclusiva todos los derechos de propiedad intelectual al/la editor/a para todo el mundo y toda la duración de los derechos de propiedad intelectual vigentes aplicables.
El/la editor/a difundirá los textos con la licencia de reconocimiento de Creative Commons que permite compartir la obra con terceros, siempre que éstos reconozcan su autoría, su publicación inicial en esta revista y las condiciones de la licencia.