The apparent consumption of coal in Latin America, 1841-2000. A history of progress and frustration
Keywords:
Coal, Energy, Latin America and Caribbean region
Abstract
This article explains the importance of coal for the beginning of modern economy in Latin America and the Caribbean. It provides the methodology for the estimation of coal consumption data for twenty countries from 1856 to 2000, plus Cuba and Chile from 1840. The conclusion is that coal consumption was a matter of the large and medium sized economies (Brazil, Mexico, Argentina, Chile, Colombia, Venezuela). The six small Central American republics, all together, never got above the 1% of the regional consumption. The Dominican Republic did not reach 0,5% and Haiti rarely surpassed 0,01% of the coal consumed in the region, a high figure for Bolivia, Ecuador and Paraguay in some years. The exception among the small ones being Uruguay, which behaved as the large ones. What is behind coal consumption in fact was not size but economic backwardness.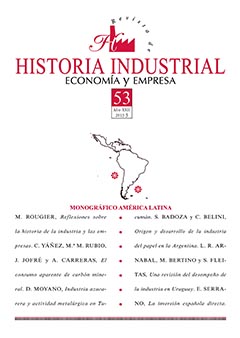 Downloads
License
El/la autor/a cede los derechos al/la editor/a. Creative Commons
El/la autor/a que publica en esta revista está de acuerdo con los términos siguientes:
El/la autor/a cede en exclusiva todos los derechos de propiedad intelectual al/la editor/a para todo el mundo y toda la duración de los derechos de propiedad intelectual vigentes aplicables.
El/la editor/a difundirá los textos con la licencia de reconocimiento de Creative Commons que permite compartir la obra con terceros, siempre que éstos reconozcan su autoría, su publicación inicial en esta revista y las condiciones de la licencia.