Origins, development and structural limits of the paper industry in Argentina, 1880-1940
Keywords:
Industrialization, Paper Industry, Protectionism, Argentina
Abstract
This paper aims at analyzing the origins and development of the Argentine paper industry
in a context of changes in technology and production processes worldwide. We explore the period of time between 1880 and the 1940's. We analyze the factors that stimulated industrial implantation and modeled the structure of the sector, focusing on company strategies in changing macro-economic environments. We pay special attention to concentration processes like those
that gave birth to La Papelera Argentina S.A. and, in the 1930's, to Celulosa Argentina, a company that would lead the sector for decades.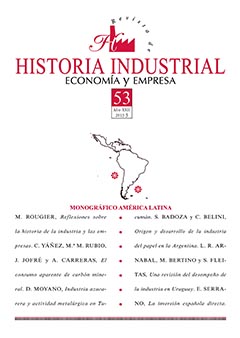 Downloads
License
El/la autor/a cede los derechos al/la editor/a. Creative Commons
El/la autor/a que publica en esta revista está de acuerdo con los términos siguientes:
El/la autor/a cede en exclusiva todos los derechos de propiedad intelectual al/la editor/a para todo el mundo y toda la duración de los derechos de propiedad intelectual vigentes aplicables.
El/la editor/a difundirá los textos con la licencia de reconocimiento de Creative Commons que permite compartir la obra con terceros, siempre que éstos reconozcan su autoría, su publicación inicial en esta revista y las condiciones de la licencia.