Spanish direct investment in Latin America. A process driven from the State- owned firm?
Keywords:
International Factor Movements and International Business, International Investment, Long-Term Capital Movements, Multinational Firms, Latin America, Public Sector
Abstract
This paper aims to infer about the role of public enterprises in the development of the Spanish investment in Latin America over the period 1980-2007. Similarly, the research aims to refute the thesis of authors who have considered the privatization of certain Spanish public companies as a prerequisite for the promotion of this investment process. Thus, the research seeks to challenge this causal relationship and demonstrate that, while there is a coincidence in time between the two phenomena, a long-term analysis suggests that the public company and the political played, between the late eighties and early nineties of the last century, an essential role as initiators and promoters of this strategy internationalized.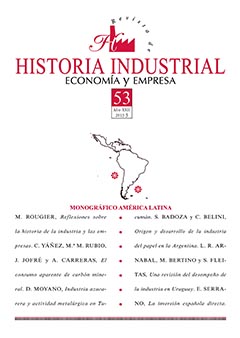 Downloads
License
El/la autor/a cede los derechos al/la editor/a. Creative Commons
El/la autor/a que publica en esta revista está de acuerdo con los términos siguientes:
El/la autor/a cede en exclusiva todos los derechos de propiedad intelectual al/la editor/a para todo el mundo y toda la duración de los derechos de propiedad intelectual vigentes aplicables.
El/la editor/a difundirá los textos con la licencia de reconocimiento de Creative Commons que permite compartir la obra con terceros, siempre que éstos reconozcan su autoría, su publicación inicial en esta revista y las condiciones de la licencia.