Not so different at all. Spanish steel entrepreneurs in the European context (1891-1936)
Keywords:
European steel industry, Entrepreneurial activities, Cartels, Lobbies
Abstract
The propensity of Spanish entrepreneurs to pursue rent income-seeking strategies has been considered a key factor in explaining the causes of the relative backwardness of Spain in the decades before the Civil War. Some authors consider that these unproductive activities had unfortunate economic consequences such as collusion and an overprotected and inefficient industrial sector, and the steel industry is often seen as the paradigm of the unproductive activities in Spanish industry. The aim of this work is, firstly, to contrast the attitudes of the Spanish steel entrepreneurs and the French and Germans in the decades that preceded World War I. Secondly, it will be analysed whether the cartelization of the market between 1897 and 1936 had negative consequences for the economic development of Spain, such as restriction on the entry of competitors, absence of technological innovations and, as a result, an inelastic supply.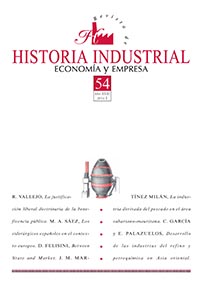 Downloads
License
El/la autor/a cede los derechos al/la editor/a. Creative Commons
El/la autor/a que publica en esta revista está de acuerdo con los términos siguientes:
El/la autor/a cede en exclusiva todos los derechos de propiedad intelectual al/la editor/a para todo el mundo y toda la duración de los derechos de propiedad intelectual vigentes aplicables.
El/la editor/a difundirá los textos con la licencia de reconocimiento de Creative Commons que permite compartir la obra con terceros, siempre que éstos reconozcan su autoría, su publicación inicial en esta revista y las condiciones de la licencia.