Spanish State investment in the fishing industry in the Saharian-Mauritanian area, 1946-1980
Keywords:
Industrial Activity, Fishery, Africa, International Relations
Abstract
This study looks at the origin and evolution of Spanish state investment in the fish-derived industry in the former Spanish colony of Western Sahara and in the Islamic Republic of Mauritania, through the creation by the Spanish National Industry Institute (Instituto Nacional de Industria [INI]) of two companies. One of these was a mixed capital and the other wholly owned
by the INI. The aim of the study is to analyse the reasons that led the Franco regime to put the said investment in place; what kind of reaction it elicited in the fishing industry of the Canary Islands in general, and the conservation industry in particular; and, lastly, what the economic and financial results were.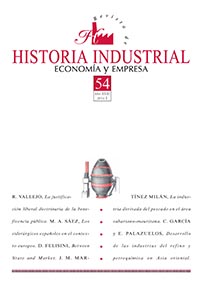 Downloads
License
El/la autor/a cede los derechos al/la editor/a. Creative Commons
El/la autor/a que publica en esta revista está de acuerdo con los términos siguientes:
El/la autor/a cede en exclusiva todos los derechos de propiedad intelectual al/la editor/a para todo el mundo y toda la duración de los derechos de propiedad intelectual vigentes aplicables.
El/la editor/a difundirá los textos con la licencia de reconocimiento de Creative Commons que permite compartir la obra con terceros, siempre que éstos reconozcan su autoría, su publicación inicial en esta revista y las condiciones de la licencia.