Edwin Chadwick, the British public health movement and the Spanish hygienism
Keywords:
Chadwick, public health movement, hygienism, Great Britain, Spain
Abstract
The British sanitary movement, led by Edwin Chadwick was, based on the approach of its Sanitary Report (1842), the most important and influential public health movement of the first half of the nineteenth century. At a time when the problems associated with deteriorating living conditions in industrial cities were becoming more pressing, its main objective was the achievement of social stability and the moralization of the working classes, together with the achievement of significant economic advantages. Meanwhile, in these same middle years of the nineteenth century, hygiene was consolidated in Spain as a modern scientific discipline thanks to Mateo Seoane, Pedro Felipe Monlau and Francisco Méndez Álvaro. This paper analyzes the connections, similarities and differences between Spanish hygienism and the British sanitary movement.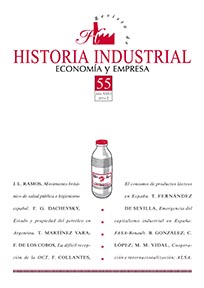 Downloads
License
El/la autor/a cede los derechos al/la editor/a. Creative Commons
El/la autor/a que publica en esta revista está de acuerdo con los términos siguientes:
El/la autor/a cede en exclusiva todos los derechos de propiedad intelectual al/la editor/a para todo el mundo y toda la duración de los derechos de propiedad intelectual vigentes aplicables.
El/la editor/a difundirá los textos con la licencia de reconocimiento de Creative Commons que permite compartir la obra con terceros, siempre que éstos reconozcan su autoría, su publicación inicial en esta revista y las condiciones de la licencia.