The poor reception of scientific management in the Spanish railways
Keywords:
Scientific Organization of Labor, the history of Spanish railways, International Railways Congress
Abstract
There is a general consensus in highlighting the enormous obstacles that the implementation of the Scientific Organization of Labor had to overcome whatever the rail network and the country. In European countries, there was a period of diffusion of the theory prior to its implementation. However, the diffusion was always partial, and it usually started in the workshops
because of their proximity to the metal trades. The Spanish railway companies generally followed the same script: the theory was received, but its practical application was delayed. This paper shows the informative efforts made by some highly skilled "production organizers" in all kinds of forums till the mid twentieth century. Some of them even chaired sessions at the International Congresses of Railways.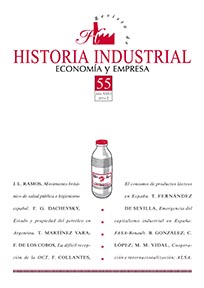 Downloads
License
El/la autor/a cede los derechos al/la editor/a. Creative Commons
El/la autor/a que publica en esta revista está de acuerdo con los términos siguientes:
El/la autor/a cede en exclusiva todos los derechos de propiedad intelectual al/la editor/a para todo el mundo y toda la duración de los derechos de propiedad intelectual vigentes aplicables.
El/la editor/a difundirá los textos con la licencia de reconocimiento de Creative Commons que permite compartir la obra con terceros, siempre que éstos reconozcan su autoría, su publicación inicial en esta revista y las condiciones de la licencia.