The emergence of industrial capitalism in Spain: The three-pronged investment in FASA-Renault, 1965-1974
Keywords:
Development, Industry, Big Firm, Automobile, Spain
Abstract
The aim of this paper is to describe the path followed by FASA-Renault within the dynamics of industrial capitalism. The hypothesis defended is that FASA-Renault was able to make the three-pronged investment defined by Chandler as a key factor for the industrial success of a large enterprise. In addition, the article considers that the development of FASA-Renault was made possible by the continued transfer of resources and capabilities by Renault. The period under analysis goes from 1965 to 1974, that is, from when Renault became the main partner of FASA until the outbreak of the oil crisis and subsequent stagflation. At that time, FASA-Renault was the thirteenth largest industrial company in Spain and had confirmed its position as the second manufacturer in the Spanish automobile industry.
Downloads
Download data is not yet available.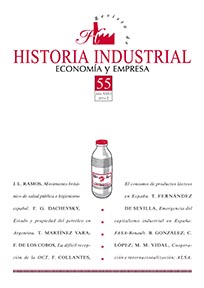 Downloads
License
El/la autor/a cede los derechos al/la editor/a. Creative Commons
El/la autor/a que publica en esta revista está de acuerdo con los términos siguientes:
El/la autor/a cede en exclusiva todos los derechos de propiedad intelectual al/la editor/a para todo el mundo y toda la duración de los derechos de propiedad intelectual vigentes aplicables.
El/la editor/a difundirá los textos con la licencia de reconocimiento de Creative Commons que permite compartir la obra con terceros, siempre que éstos reconozcan su autoría, su publicación inicial en esta revista y las condiciones de la licencia.