Commercial networks and industrial development in Catalan cork manufacture before 1914. The example of Genís and Co.
Keywords:
Cork industry, Spanish exports, Commercial networks
Abstract
Spanish cork stoppers manufacture, mainly located in the Girona region, was strongly export-based in the eighteenth and nineteenth centuries. This made it exceptional among the other branches of Spanish industry. Moreover, the cork sector made an important contribution to Spanish exports during this period. This article studies a key issue that is necessary to understand the export success of this industry: the characteristics and the development of the firms' commercial networks. First, we have analyzed the commercialization of cork stoppers in the initial phases of this industry, until the mid-nineteenth century. Secondly, we have studied the performance of these commercial networks through the case of the company Genís and Co., which was specialized in Central and Eastern Europe markets in the last decades of the nineteenth century and the beginnings of the twentieth century.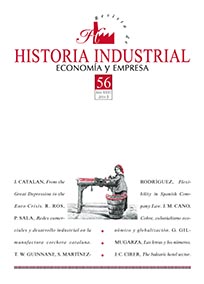 Downloads
License
El/la autor/a cede los derechos al/la editor/a. Creative Commons
El/la autor/a que publica en esta revista está de acuerdo con los términos siguientes:
El/la autor/a cede en exclusiva todos los derechos de propiedad intelectual al/la editor/a para todo el mundo y toda la duración de los derechos de propiedad intelectual vigentes aplicables.
El/la editor/a difundirá los textos con la licencia de reconocimiento de Creative Commons que permite compartir la obra con terceros, siempre que éstos reconozcan su autoría, su publicación inicial en esta revista y las condiciones de la licencia.