Copper, economic colonialism and globalization: the British investment in the Cerro Muriano mines (Cordoba, Spain, 1897-1919)
Keywords:
Minería y metalurgia del cobre, Colonialismo económico, Globalización, Boom minero
Abstract
During the first two decades of the 20th century the Cerro Muriano copper mines (Córdoba, Spain), by that time already famous due to the abundant remains of ancient workings preserved there, were developed on an industrial scale by several English investors, who entrusted the management of their enterprise to the prestigious London-based agency John Taylor & Sons. This article comprises a concise microeconomic analysis of the venture, which then forms the basis for a more generalised consideration of two international historic phenomena: the economic colonialism which led to the world-wide proliferation of this type of mining operations; and the resultant "proto-globalization" of economic, technological and social systems around the mining world.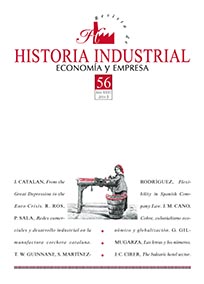 Downloads
License
El/la autor/a cede los derechos al/la editor/a. Creative Commons
El/la autor/a que publica en esta revista está de acuerdo con los términos siguientes:
El/la autor/a cede en exclusiva todos los derechos de propiedad intelectual al/la editor/a para todo el mundo y toda la duración de los derechos de propiedad intelectual vigentes aplicables.
El/la editor/a difundirá los textos con la licencia de reconocimiento de Creative Commons que permite compartir la obra con terceros, siempre que éstos reconozcan su autoría, su publicación inicial en esta revista y las condiciones de la licencia.