Letters and numbers. Spanish book production in the twentieth century through the statistical sources
Keywords:
Statistical sources, Publishing industry, Books, Spain
Abstract
Long-term studies about the Spanish book publishing industry based on time series are scarce. It has been long considered that Spanish statistical sources about this industry are unreliable, so they pose problems when trying to quantify the evolution of the sector. Subsequently,available statistical sources have frequently been used only as a complement to the text. This article examines five of those sources and uses them to build a narrative around them for the Spanish book publishing sector in the twentieth century. Based on the results, this article establishes five stages in the Spanish book publishing sector for the last century and links those trends to the main developments in every period
Downloads
Download data is not yet available.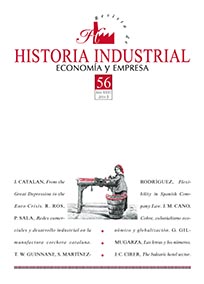 Downloads
License
El/la autor/a cede los derechos al/la editor/a. Creative Commons
El/la autor/a que publica en esta revista está de acuerdo con los términos siguientes:
El/la autor/a cede en exclusiva todos los derechos de propiedad intelectual al/la editor/a para todo el mundo y toda la duración de los derechos de propiedad intelectual vigentes aplicables.
El/la editor/a difundirá los textos con la licencia de reconocimiento de Creative Commons que permite compartir la obra con terceros, siempre que éstos reconozcan su autoría, su publicación inicial en esta revista y las condiciones de la licencia.