The explosive expansion and consolidation of the Balearic hotel sector, 1964- 2010
Keywords:
tourism, industrial district, hotels, Balearic Islands
Abstract
Today, the Balearic archipelago is the largest tourist destination in the Mediterranean. The history of tourism in the islands goes back more than a hundred years, but the present-day configuration of the industry dates from the boom of the early 1960s, when it expanded rapidly to cater for the new market principally comprising holidaymakers from northern European.
Over the past fifty years, the Balearic tourist trade has evolved and has adapted systematically to the changes in customer demand. The key to its adaptability lies in the industrial district structure adopted by the islands' entrepreneurs, which has enabled them to keep costs to a minimum and also to accumulate the capital necessary to finance their firms' expansion
all over the world.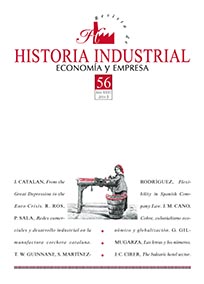 Downloads
License
El/la autor/a cede los derechos al/la editor/a. Creative Commons
El/la autor/a que publica en esta revista está de acuerdo con los términos siguientes:
El/la autor/a cede en exclusiva todos los derechos de propiedad intelectual al/la editor/a para todo el mundo y toda la duración de los derechos de propiedad intelectual vigentes aplicables.
El/la editor/a difundirá los textos con la licencia de reconocimiento de Creative Commons que permite compartir la obra con terceros, siempre que éstos reconozcan su autoría, su publicación inicial en esta revista y las condiciones de la licencia.