Rum, Business and Society in Cuba, 1832-1965
Keywords:
Rum, Cuban business, social capital, entrepreneurship
Abstract
This article maintains the hypothesis that Cuba was able to become one of the world's biggest rum producers thanks to the external economics provided by its social capital. In fact, Cuban rum producers had to face Spanish commercial tariffs first, and then those of the US. It was only thanks to the social and economic networks built by Catalonian producers in the industrial
districts that they created that rum firms could reduce their costs and become competitive. Additionally, both commercial restrictions and high internal transaction costs pushed these firms toward greater horizontal and vertical integration. As a result of this process, in 1959 Havana Club and Bacardí were two of the most powerful beverage firms in the world. This study tries to identify the founders, origin, organization and strategies
Downloads
Download data is not yet available.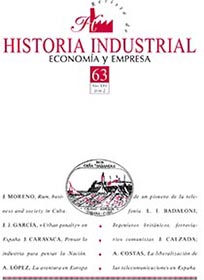 Downloads
License
El/la autor/a cede los derechos al/la editor/a. Creative Commons
El/la autor/a que publica en esta revista está de acuerdo con los términos siguientes:
El/la autor/a cede en exclusiva todos los derechos de propiedad intelectual al/la editor/a para todo el mundo y toda la duración de los derechos de propiedad intelectual vigentes aplicables.
El/la editor/a difundirá los textos con la licencia de reconocimiento de Creative Commons que permite compartir la obra con terceros, siempre que éstos reconozcan su autoría, su publicación inicial en esta revista y las condiciones de la licencia.