Economic Nationalism in Argentina: considering industry to understand the nation, 1870-1900
Keywords:
Knowledge circulation, economic thought, historicism, economic nationalism, industrialisation
Abstract
This paper analyses academic, political and corporate positions and debates regarding industry as a key element of national development and independence in Argentina over the last three decades of the nineteenth century. It is postulated that the economic liberalism of that period could be defined as a nationalist liberalism one. That leads to incorporate into the analysis the local reception of nationalist economic thought, especially the work of German economist Friedrich List.
Downloads
Download data is not yet available.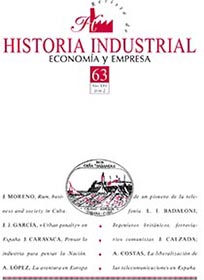 Downloads
License
El/la autor/a cede los derechos al/la editor/a. Creative Commons
El/la autor/a que publica en esta revista está de acuerdo con los términos siguientes:
El/la autor/a cede en exclusiva todos los derechos de propiedad intelectual al/la editor/a para todo el mundo y toda la duración de los derechos de propiedad intelectual vigentes aplicables.
El/la editor/a difundirá los textos con la licencia de reconocimiento de Creative Commons que permite compartir la obra con terceros, siempre que éstos reconozcan su autoría, su publicación inicial en esta revista y las condiciones de la licencia.