The business adventure in Europe of a pioneer of the telephone from Baltimore
Keywords:
Communication networks, history of telecommunication, telephone, market organization, technology transfer
Abstract
During the years of 1879 and 1880, more than a hundred companies were registered in the United States of America with the aim of operating in the burgeoning telephone sector. The widely accepted view was that a great business opportunity had arrived, as this technology was likely to spread at great speed. The most daring entrepreneurs also considered that international markets could offer similar opportunities, and thus established firms to operate exclusively in foreign countries. Some of these companies were established in the city of Baltimore (Maryland) and led by Augustus G. Davis (1834-1912), a pioneer of telephony in that city and a protagonist in the sector until the late nineteenth century.
Downloads
Download data is not yet available.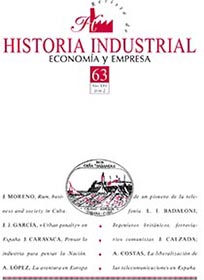 Downloads
License
El/la autor/a cede los derechos al/la editor/a. Creative Commons
El/la autor/a que publica en esta revista está de acuerdo con los términos siguientes:
El/la autor/a cede en exclusiva todos los derechos de propiedad intelectual al/la editor/a para todo el mundo y toda la duración de los derechos de propiedad intelectual vigentes aplicables.
El/la editor/a difundirá los textos con la licencia de reconocimiento de Creative Commons que permite compartir la obra con terceros, siempre que éstos reconozcan su autoría, su publicación inicial en esta revista y las condiciones de la licencia.