British engineers, Communist railwaymen and labour organization in the workshops of the Central Argentine Railway during the first decades of the twentieth century
Keywords:
Railroads, labour management, Taylorism, labour management relations
Abstract
This article is focused on analysing labour organization inside the Central Argentine Railway workshops of the first decades of twentieth century in Argentina. We are primarily interested in the incorporation of elements related to the principles of scientific management. It is stated that in that period, the company took steps to restructure railroad work on "scientific"
bases. We address this topic through documents written by British engineers on the workshops, as well as by workers who belonged to communist cells in addressing the world of work and labour relationships, taking into account the two social subjects involved: workers, on the one hand, and employers or company representatives, on the other.
Downloads
Download data is not yet available.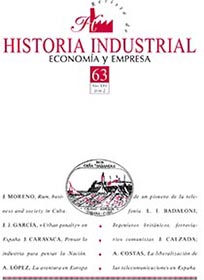 Downloads
License
El/la autor/a cede los derechos al/la editor/a. Creative Commons
El/la autor/a que publica en esta revista está de acuerdo con los términos siguientes:
El/la autor/a cede en exclusiva todos los derechos de propiedad intelectual al/la editor/a para todo el mundo y toda la duración de los derechos de propiedad intelectual vigentes aplicables.
El/la editor/a difundirá los textos con la licencia de reconocimiento de Creative Commons que permite compartir la obra con terceros, siempre que éstos reconozcan su autoría, su publicación inicial en esta revista y las condiciones de la licencia.