Living Standards, Nutrition and Inequality in the Spanish Industrialisation. An Anthropometric View
Keywords:
Biological standards of living, nutrition, inequality, Spain, industrialisation
Abstract
This article presents an overview of the study of living standards in Spain from the perspective of anthropometric history and new data from recent research. The aim is to examine changes in nutrition during the industrial age through anthropometric indicators. The paper provides new evidence on the changes in height among different socioeconomic groups and its relation with health and human well-being in different periods and geographical regions. It also explores inequality before and during the process of industrialisation. In addition to tracking the effects of environmental changes on well-being and inequality between the proto-industrial period in the eighteenth century and the industrial leap in the beginning of the second half of the twentieth century, it explores the costs of industrialisation in biological standards of living in the short- and the long-term. Finally, it suggests future directions of research.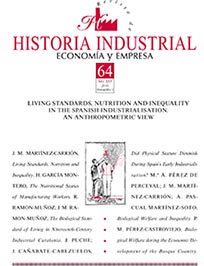 Downloads
License
El/la autor/a cede los derechos al/la editor/a. Creative Commons
El/la autor/a que publica en esta revista está de acuerdo con los términos siguientes:
El/la autor/a cede en exclusiva todos los derechos de propiedad intelectual al/la editor/a para todo el mundo y toda la duración de los derechos de propiedad intelectual vigentes aplicables.
El/la editor/a difundirá los textos con la licencia de reconocimiento de Creative Commons que permite compartir la obra con terceros, siempre que éstos reconozcan su autoría, su publicación inicial en esta revista y las condiciones de la licencia.