Biological Welfare during the Economic Development of the Basque Country: Biscay, 1850-2000
Keywords:
Biological welfare, human height, standard of living, Biscay
Abstract
This paper analyses the biological welfare in the context of industrialisation and economic growth in Biscay. It explores the changes in the welfare of young Basques from a sample of six towns, three of them agricultural and the other three industrial. Although the average height had a rising trend in the long term, its evolution was irregular due to the influence of environmental and socioeconomic factors. The decline of height is particularly evident at three stages: firstly, during the pre-industrial boom and once the process had been initiated in the 1880s; secondly, from the end of the First World War until 1925 and, finally, during the years of the Civil War and its aftermath. Moreover, this paper reveals a correlation between health, real wages and height, and it also pays special attention to body mass index (BMI) in order to assess the degree of robustness of the Basque recruits throughout the period under study.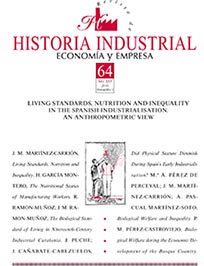 Downloads
License
El/la autor/a cede los derechos al/la editor/a. Creative Commons
El/la autor/a que publica en esta revista está de acuerdo con los términos siguientes:
El/la autor/a cede en exclusiva todos los derechos de propiedad intelectual al/la editor/a para todo el mundo y toda la duración de los derechos de propiedad intelectual vigentes aplicables.
El/la editor/a difundirá los textos con la licencia de reconocimiento de Creative Commons que permite compartir la obra con terceros, siempre que éstos reconozcan su autoría, su publicación inicial en esta revista y las condiciones de la licencia.