The end of the expansion cycle of saltpeter in Chile: the inflection of 1919 as a structural crisis
Keywords:
Saltpeter crisis, Expansion cycle, Market of fertilizers
Abstract
This article presents support for the view that the saltpetre crisis of 1919–1922 marked the end of the expansion cycle of nitrate in Chile. It also reports on the previously unknown social impact of this crisis. Even though recurrent crises and their respective peaks were a characteristic of this economy, the turning point reached in 1919–1922 had unprecedented consequences due to the definitive loss of the German market and the consolidation of synthetic nitrate. For the first time, this crisis made Chileans aware of the structural problems in its economy and the need to change the saltpetre policy established in the previous century. This paper challenges the traditional Chilean national historiography, which hadn't considered this event as the end of the saltpetre industry, protracting its demise until the Great Depression of 1929.
Downloads
Download data is not yet available.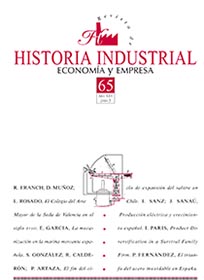 Downloads
License
El/la autor/a cede los derechos al/la editor/a. Creative Commons
El/la autor/a que publica en esta revista está de acuerdo con los términos siguientes:
El/la autor/a cede en exclusiva todos los derechos de propiedad intelectual al/la editor/a para todo el mundo y toda la duración de los derechos de propiedad intelectual vigentes aplicables.
El/la editor/a difundirá los textos con la licencia de reconocimiento de Creative Commons que permite compartir la obra con terceros, siempre que éstos reconozcan su autoría, su publicación inicial en esta revista y las condiciones de la licencia.