Product Diversification in a Survival Family Firm: The Case of Fabbrica d'Armi Pietro Beretta (1946–1996)
Keywords:
Italy, 20th century, family business, survival company, arms industry, diversification process
Abstract
Fabbrica d'Armi Pietro Beretta (FAPB) is a typical family businesses. Product diversification is one of the most difficult ways to expand an enterprise, and there are only a few studies for survival family firms. The objective of this paper is twofold: to understand if and how the context and the peculiar characteristics of FAPB (above all longevity), with equal family ownership and control conditions, have influenced decisions regarding diversification and, as a result, competitiveness, performance and growth of the company. The aim is to identify the competences needed in a small/medium survival family firm in order to undertake successful diversification strategies without excessive risk.
Downloads
Download data is not yet available.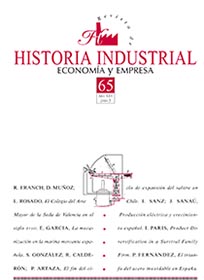 Downloads
License
El/la autor/a cede los derechos al/la editor/a. Creative Commons
El/la autor/a que publica en esta revista está de acuerdo con los términos siguientes:
El/la autor/a cede en exclusiva todos los derechos de propiedad intelectual al/la editor/a para todo el mundo y toda la duración de los derechos de propiedad intelectual vigentes aplicables.
El/la editor/a difundirá los textos con la licencia de reconocimiento de Creative Commons que permite compartir la obra con terceros, siempre que éstos reconozcan su autoría, su publicación inicial en esta revista y las condiciones de la licencia.