The triumph of stainless steel in Spain. The historical origins of Acerinox (1970-1991)
Keywords:
Acerinox, Stainless steel, Japan, Special steels
Abstract
Stainless steels are one type of special steels that appeared in some developed countries before World War II, in order to meet the demand of new industrial sectors, and the demand of the construction and urban equipment. The article studies the introduction of stainless steels in Spain in the middle of the twentieth century, and the historical origins of Acerinox, one of the leading world corporations in this industrial sector. This corporation has been the only successful joint venture with Japanese investors in the steel industries in Europe. New empirical evidence from written and oral sources has revealed how significant the links between Spanish and Japanese entrepreneurs were, since the 1960s, in order to understand the formal constitution of the Joint Venture in 1970, and the successful transfer of technology and market know-how from Japan to Spain, between the 1970s and 1980s.
Downloads
Download data is not yet available.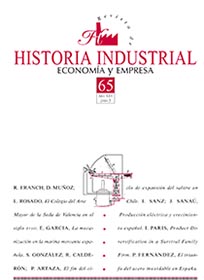 Downloads
How to Cite
Fernández Pérez, Paloma. 2016. "The Triumph of Stainless Steel in Spain. The Historical Origins of Acerinox (1970-1991)". Revista De Historia Industrial — Industrial History Review 25 (65):181-215. https://doi.org/10.1344/rhi.v25i65.21235.
License
El/la autor/a cede los derechos al/la editor/a. Creative Commons
El/la autor/a que publica en esta revista está de acuerdo con los términos siguientes:
El/la autor/a cede en exclusiva todos los derechos de propiedad intelectual al/la editor/a para todo el mundo y toda la duración de los derechos de propiedad intelectual vigentes aplicables.
El/la editor/a difundirá los textos con la licencia de reconocimiento de Creative Commons que permite compartir la obra con terceros, siempre que éstos reconozcan su autoría, su publicación inicial en esta revista y las condiciones de la licencia.