Prensa económica, 1874-1936: el caso de «El Economista»
Keywords:
Prensa económica, El Economista, intervencionismo, proteccionismo, tipo de cambio, crisis económicas
Abstract
En el periodo 1874-1936 la prensa económica española dirigida a profesionales y hombresde negocios vivió un verdadero boom, que contrastó con el bajo nivel del pensamiento económicoespañol —al menos hasta la década de 1920— y con la escasez de publicaciones semiacadémicasdedicadas a la Economía. Hasta ahora la prensa española especializada de esta etapaapenas había recibido atención por parte de los historiadores del pensamiento económico,centrados en el ámbito académico. Sin embargo, como pone de manifiesto el caso de El Economista,la prensa económica constituye un campo de análisis relevante: tuvo nivel muy digno,desempeñó un papel importante en la difusión y vulgarización de ideas económicas básicas,y evidencia los inicios del proceso de profesionalización de la Economía en nuestro país.No solo se limitó a dar información económica, sino que recogió los debates económicos másnotables del momento y tomó clara posición ante ellos, reflejando sin duda amplios estadosde opinión e intereses de grupos concretos.
Downloads
Download data is not yet available.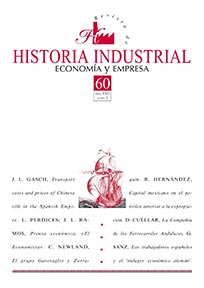 Downloads
How to Cite
Perdices Blas, Luis, and José Luis Ramos Gorostiza. 2018. "Prensa económica, 1874-1936: El Caso De «El Economista»". Revista De Historia Industrial — Industrial History Review 24 (60):49-80. https://doi.org/10.1344/rhi.v24i60.21297.
License
El/la autor/a cede los derechos al/la editor/a. Creative Commons
El/la autor/a que publica en esta revista está de acuerdo con los términos siguientes:
El/la autor/a cede en exclusiva todos los derechos de propiedad intelectual al/la editor/a para todo el mundo y toda la duración de los derechos de propiedad intelectual vigentes aplicables.
El/la editor/a difundirá los textos con la licencia de reconocimiento de Creative Commons que permite compartir la obra con terceros, siempre que éstos reconozcan su autoría, su publicación inicial en esta revista y las condiciones de la licencia.