Local business systems and territories of progress in Andalusia, 1886-1959
Keywords:
Business Systems, Economic History, Industrial Districts, Regional Development, Social Networks Analysis
Abstract
Economic change is concentrated in small territorial units —cities or counties— before spreading to the immediate space. This article aims to point out the relationship between space and economic development, from the concept of territory of progress. We understand that «territories of progress» are those spaces which assimilate organizational patterns, technological trends and trade patterns of the most advanced regions in a particular historical moment. The case study is Andalusia, a region of southwestern Europe, between 1886 and 1959. First, we locate the economic activity in local business systems. Subsequently, we identified those business systems became territories of progress, using indicators of network theory. The research, based on information from the Commercial Registers, concludes that in Andalusia, during the period studied, there were few areas of progress, which conditioned the economic performance of the region.
Downloads
Download data is not yet available.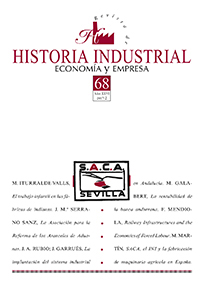 Downloads
License
Copyright (c) 2018 Revista de Historia Industrial. Economía y Empresa
This work is licensed under a Creative Commons Attribution 4.0 International License.
El/la autor/a cede los derechos al/la editor/a. Creative Commons
El/la autor/a que publica en esta revista está de acuerdo con los términos siguientes:
El/la autor/a cede en exclusiva todos los derechos de propiedad intelectual al/la editor/a para todo el mundo y toda la duración de los derechos de propiedad intelectual vigentes aplicables.
El/la editor/a difundirá los textos con la licencia de reconocimiento de Creative Commons que permite compartir la obra con terceros, siempre que éstos reconozcan su autoría, su publicación inicial en esta revista y las condiciones de la licencia.