Environmental History of the Flix electrochemical company: Precautionary Principal versus the Growth Paradigm
Keywords:
Ecological economics, Environmental liabilities, Environmental History, Precautionary Principle
Abstract
This article discusses the environmental responsibility of the Ercros Group — located in Flix, Catalonia—, and its poor implementation of the Precautionary Principle over a century (especially from the 1980s onwards). Despite the legislation and knowledge available, Flix's industrial activity has exacerbated adverse effects on population and environment. In addition, the complicity of the public administrations with Ercros corporation increased dramatically the environmental liabilities. Although the company's liability has been proved, a good part of the environmental costs will covered by the public administration.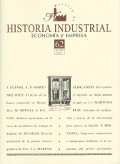 Downloads
License
El/la autor/a cede los derechos al/la editor/a. Creative Commons
El/la autor/a que publica en esta revista está de acuerdo con los términos siguientes:
El/la autor/a cede en exclusiva todos los derechos de propiedad intelectual al/la editor/a para todo el mundo y toda la duración de los derechos de propiedad intelectual vigentes aplicables.
El/la editor/a difundirá los textos con la licencia de reconocimiento de Creative Commons que permite compartir la obra con terceros, siempre que éstos reconozcan su autoría, su publicación inicial en esta revista y las condiciones de la licencia.