Italian Companies, Entrepreneurs and Italian immigrants in Peron's Argentina (1946-1955)
Keywords:
Argentinian industrialization, italian emigration, emigrant entreprenerus, import substitution, peronism
Abstract
This paper studies the transfer of Italian companies with all staff to Argentina as part of the industrialization policy of the first Peronism (1946-1955), analyzing the characteristics of the phenomenon, that involved a lot of firms and tens of thousands of workers. Using primary sources, Italian and Argentine, the article proposes some hypothesis on a) the new combination between Italian immigration and industrial penetration and b) the centrality of immigration on the development of Argentina industry in the post World War II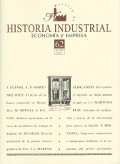 Downloads
License
El/la autor/a cede los derechos al/la editor/a. Creative Commons
El/la autor/a que publica en esta revista está de acuerdo con los términos siguientes:
El/la autor/a cede en exclusiva todos los derechos de propiedad intelectual al/la editor/a para todo el mundo y toda la duración de los derechos de propiedad intelectual vigentes aplicables.
El/la editor/a difundirá los textos con la licencia de reconocimiento de Creative Commons que permite compartir la obra con terceros, siempre que éstos reconozcan su autoría, su publicación inicial en esta revista y las condiciones de la licencia.