Aguas da morte: the contamination of waters in the mining basins of the Iberian peninsula
Keywords:
Pollution Control Adoption and Costs, Water Pollution, Technological Innovation, Government Policy
Abstract
Iberian mining basins have a long history of water pollution problems. This paper analyzes the most serious mining pollution cases in Spain and Portugal in the period spanning from the second half of 19th century to the 1960s. The first part centers on the technological consequences of these problems, with a particular stress on the role and strategies of mining companies. The second part is an analysis of the institutional framework in Portugal and Spain, which emphasizes the early character of the legal solutions implemented as well as their originality and diversity. Finally, the complex relations between technological innovation, institutional framework and water pollution are discussed.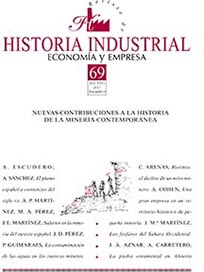 Downloads
License
El/la autor/a cede los derechos al/la editor/a. Creative Commons
El/la autor/a que publica en esta revista está de acuerdo con los términos siguientes:
El/la autor/a cede en exclusiva todos los derechos de propiedad intelectual al/la editor/a para todo el mundo y toda la duración de los derechos de propiedad intelectual vigentes aplicables.
El/la editor/a difundirá los textos con la licencia de reconocimiento de Creative Commons que permite compartir la obra con terceros, siempre que éstos reconozcan su autoría, su publicación inicial en esta revista y las condiciones de la licencia.