The long mise-en-scène of Western Sahara's phosphate, 1947-1969
Keywords:
Mining, Public Enterprise, Sahara Occidental, Colonialisme
Abstract
ter the discovery of the existence of phosphate in Western Sahara by the geologist Manuel Alía Medina in the year 1945, Spain ordered the National Company of Mining Investigation (Enadimsa) to carry through the investigation and exploitation of the phosphate mining area of Western Sahara with the purpose of providing phospated fertilizers to the national industry. In this job my objective is to analyze the evolution of this first stage of the investigation and taking the mineral deposit into account through the study of the documents of both companies appointed by the INI: Enadimsa and the National Company of Mining of the Sahara S.A (Enminsa). In this paper, I hold that the lack of a clear policy defined by the state and the lack of finance, delayed the exploitation of this mineral deposit until the late years of Franco's regime.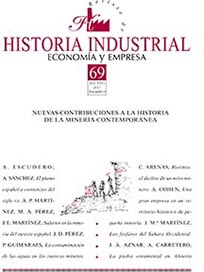 Downloads
License
El/la autor/a cede los derechos al/la editor/a. Creative Commons
El/la autor/a que publica en esta revista está de acuerdo con los términos siguientes:
El/la autor/a cede en exclusiva todos los derechos de propiedad intelectual al/la editor/a para todo el mundo y toda la duración de los derechos de propiedad intelectual vigentes aplicables.
El/la editor/a difundirá los textos con la licencia de reconocimiento de Creative Commons que permite compartir la obra con terceros, siempre que éstos reconozcan su autoría, su publicación inicial en esta revista y las condiciones de la licencia.