Origins and evolution of the industrial district of ornamental stones in Almería
Keywords:
Mining history, Marble, Industrial district, Business history
Abstract
Marble extraction has been carried out constantly in Almería since the first centuries of our era till nowadays. In the 1980s a radical change regarding its extraction, processing and marketing took place. It was then when the marble industrial district emerged and was characterised with a great dynamism. This chapter analyzes the generation process of the industrial district as well as its evolutionary dynamics. Previous features of a mining agglomeration are described. It is shown how the setting up of the industrial district took place and the latest version of its configuration is depicted with the presence of a local multinational (Cosentino). This case study confirms how mining activities can evolve into the dynamics of an industrial district; it also shows the components which give the industrial district a great resilience.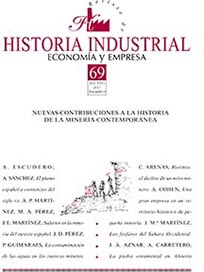 Downloads
License
El/la autor/a cede los derechos al/la editor/a. Creative Commons
El/la autor/a que publica en esta revista está de acuerdo con los términos siguientes:
El/la autor/a cede en exclusiva todos los derechos de propiedad intelectual al/la editor/a para todo el mundo y toda la duración de los derechos de propiedad intelectual vigentes aplicables.
El/la editor/a difundirá los textos con la licencia de reconocimiento de Creative Commons que permite compartir la obra con terceros, siempre que éstos reconozcan su autoría, su publicación inicial en esta revista y las condiciones de la licencia.