The presence of the Spanish civil guard in industrial areas in barracks: a new factor in the relationship between employers and workers
Keywords:
Strikes, Public Security, Civil Guard, Labour Conflicts
Abstract
This article focuses on the permanent presence of the Civil Guard, in barracks (casas cuartel) in industrial areas, assessing the role it played in the development of relations between employers and workers, primarily in the first third of the 20th century. The introduction of this public law enforcement agency in industrial areas, facilitated by the corporate sector itself to respond to the workers' demands, is still not common knowledge. For the above purposes, the different barracks were analysed in three main industrial areas: municipalities, industrial settlements or colonies, and agricultural sites. Our research confirms the confrontational role of this law enforcement agency in defending the common interests of the employers and the State, before the workers and their demands, which led the buildings of residential barracks to become the target of the most violent attacks.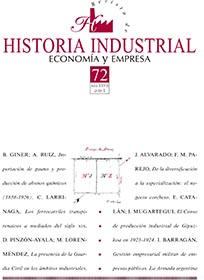 Downloads
License
El/la autor/a cede los derechos al/la editor/a. Creative Commons
El/la autor/a que publica en esta revista está de acuerdo con los términos siguientes:
El/la autor/a cede en exclusiva todos los derechos de propiedad intelectual al/la editor/a para todo el mundo y toda la duración de los derechos de propiedad intelectual vigentes aplicables.
El/la editor/a difundirá los textos con la licencia de reconocimiento de Creative Commons que permite compartir la obra con terceros, siempre que éstos reconozcan su autoría, su publicación inicial en esta revista y las condiciones de la licencia.