From diversification to specialization: the incursion of the Torrellas family in the cork business (1879-1923)
Keywords:
Cork, Cork industry, Torrellas, Catalonia, Extremadura
Abstract
In this paper we analyze the role of the Torrellas family firm, originally from Tossa de Mar (Catalonia), in the cork business during the late nineteenth century and early twentieth century, as well as its adaptation strategies to the changing context of this business throughout those years. In 1879 the Torrellas family acquired a whole cork exploitation business, including a cork factory in Serrejón (Cáceres), they developed an intense commercial and industrial activity around southwestern Spain, becoming a reference company in the Spanish cork business, particularly as cork suppliers. We pay particular attention to the factors that led to the successful expansion of the Torrellas family business, as well as those that led to its bankruptcy in 1923, which ended the business venture of this family in the cork business.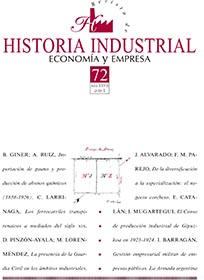 Downloads
License
El/la autor/a cede los derechos al/la editor/a. Creative Commons
El/la autor/a que publica en esta revista está de acuerdo con los términos siguientes:
El/la autor/a cede en exclusiva todos los derechos de propiedad intelectual al/la editor/a para todo el mundo y toda la duración de los derechos de propiedad intelectual vigentes aplicables.
El/la editor/a difundirá los textos con la licencia de reconocimiento de Creative Commons que permite compartir la obra con terceros, siempre que éstos reconozcan su autoría, su publicación inicial en esta revista y las condiciones de la licencia.