Industrial Production Census of Gipuzkoa in 1923-1924
Keywords:
Industry, Gipuzkoa, Basque Country, Contemporary Spain
Abstract
The aim of this report is to discuss the Industrial Production Census of Gipuzkoa, which was elaborated by the Foral Treasury in 1923-1924 to negotiate a new Economic Agreement and that was unpublished until now. The data of more than 3,000 companies allows us to define with precision the structural characteristics of the industry of Gipuzkoa regarding their size, location, finance, energy consumption, employment, inputs and production. The Census shows a marked duality in which traditional industrial sectors coexist with other novel ones, dedicated to manufacture of equipment and intermediate goods. Inputs were supplied to the domestic market —with the exception of some special steels, chemical and colonial goods— and they were manufactured to satisfy the domestic demand. The only exceptions were weapons, damascene work, espadrilles and tinned fish that had an unusual overseas impact.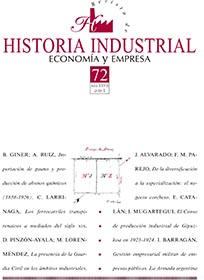 Downloads
License
El/la autor/a cede los derechos al/la editor/a. Creative Commons
El/la autor/a que publica en esta revista está de acuerdo con los términos siguientes:
El/la autor/a cede en exclusiva todos los derechos de propiedad intelectual al/la editor/a para todo el mundo y toda la duración de los derechos de propiedad intelectual vigentes aplicables.
El/la editor/a difundirá los textos con la licencia de reconocimiento de Creative Commons que permite compartir la obra con terceros, siempre que éstos reconozcan su autoría, su publicación inicial en esta revista y las condiciones de la licencia.