"The sacrifices that the nation requires". Military business management of public firms. The Argentinian Navy at the Rio Santiago Shipyard (1953-1973)
Keywords:
Argentina, State-owned company, Navy
Abstract
The management of public companies and the management of the industrial work force by the military regime will be studied in this article from the relevant observation. We propose to analyze the forms of corporate-military management in Astillero Rio Santiago (ARS) under the orbit of the Argentina Navy in order to observe some of the singularities in relation to other large state companies. In the ARS, the system of cooperation and simultaneous domain of the workers collective was founded on notions of industrial development and nationalism, both present in the military repertoires, displacing expressions like family. The discursive construction of business management articulated notions of autonomy, development, defense and industrialism, and equating both productive tasks as the sacrifice of men who built major works relevant to national destiny.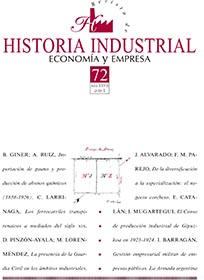 Downloads
License
El/la autor/a cede los derechos al/la editor/a. Creative Commons
El/la autor/a que publica en esta revista está de acuerdo con los términos siguientes:
El/la autor/a cede en exclusiva todos los derechos de propiedad intelectual al/la editor/a para todo el mundo y toda la duración de los derechos de propiedad intelectual vigentes aplicables.
El/la editor/a difundirá los textos con la licencia de reconocimiento de Creative Commons que permite compartir la obra con terceros, siempre que éstos reconozcan su autoría, su publicación inicial en esta revista y las condiciones de la licencia.