The fishing fleet in the port of Barcelona. An untold story (1907-1936)
Keywords:
fishing firms, fishing industry, Barcelona
Abstract
The adoption of trawling was studied for different Spanish ports, but not for the port of Barcelona. This has led to the consideration that the fishing fleet based there was minor. However, in this paper a study on the number moored vessels and businesses tied to their management is performed. Thus, it is concluded that, although from the 1930s it may have ceased to be representative, it was not until that date. Between 1907 and the years before the Civil War the port of Barcelona had one of the largest and most modern fleets in the Peninsula, covering an important part of the consumption of fresh fish in the city. Likewise, companies in charge of its management were also involved in distribution activities.
Downloads
Download data is not yet available.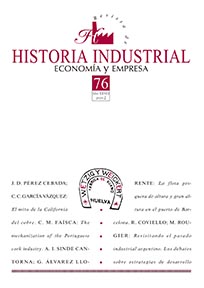 Downloads
How to Cite
Sinde-Cantorna, Ana Isabel, and Gema Álvarez Llorente. 2019. "The Fishing Fleet in the Port of Barcelona. An Untold Story (1907-1936)". Revista De Historia Industrial — Industrial History Review 28 (76):79-106. https://doi.org/10.1344/rhi.v28i76.22137.
License
El/la autor/a cede los derechos al/la editor/a. Creative Commons
El/la autor/a que publica en esta revista está de acuerdo con los términos siguientes:
El/la autor/a cede en exclusiva todos los derechos de propiedad intelectual al/la editor/a para todo el mundo y toda la duración de los derechos de propiedad intelectual vigentes aplicables.
El/la editor/a difundirá los textos con la licencia de reconocimiento de Creative Commons que permite compartir la obra con terceros, siempre que éstos reconozcan su autoría, su publicación inicial en esta revista y las condiciones de la licencia.