The retail savings of Spanish private banking, 1900-1935
Keywords:
savings, savings banks, commercial banking, savings bank departments, retail financial market
Abstract
The relative increase in wage income and, consequently, the improvement of living standards of the Spanish popular and middle classes between 1900 and 1935 led to an increase in their savings capacity. During these years the growth of savings balances generated a retail financial market that interested commercial banks, willing to enter into competition with charitable savings banks. The Ordinance Law of the Spanish banking system of 1921 and the creation of the Spanish Banking Control Council boosted interest in this competition to control retail savings. Commercial banks used the strategy of generating, within their organizations, "savings bank departments" that offered the savings products of the savings banks (charitable- social). In this paper we reconstruct the savings captured by commercial banks. It also analyses the structure of the client liabilities of the different types of commercial bank and banking areas.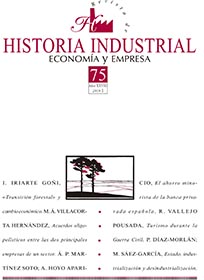 Downloads
License
El/la autor/a cede los derechos al/la editor/a. Creative Commons
El/la autor/a que publica en esta revista está de acuerdo con los términos siguientes:
El/la autor/a cede en exclusiva todos los derechos de propiedad intelectual al/la editor/a para todo el mundo y toda la duración de los derechos de propiedad intelectual vigentes aplicables.
El/la editor/a difundirá los textos con la licencia de reconocimiento de Creative Commons que permite compartir la obra con terceros, siempre que éstos reconozcan su autoría, su publicación inicial en esta revista y las condiciones de la licencia.