Revisiting the Argentine industrial past. The arguments on development strategies in the Programa Conjunto para el Desarrollo Agropecuario e Industrial (1962-1965)
Keywords:
Argentina, industrial policy, development strategies, institutions
Abstract
This article studies the Programa Conjunto para el Desarrollo Agropecuario e Industrial (1962-1965), promoted by the Consejo Federal de Inversiones – a government agency linked to planning – and the Confederación General Económica – an employer association of the national bourgeoisie. Specifically, it analyzes the link between this initiative and the expert problematizations that had been taking shape since the end of the 1950s in favor of an industrial-export reorientation of the Argentine economy. To do this, it describes the different aspects of these arguments and highlights the role played in its configuration by the driving forces of the program. As shown, these organizations officiated as favorable environments for the institutionalization of such problematizations. Thus, the conclusions of the article contribute to a better understanding of the displacement that the Argentine development model began to experience during the 1960s, which was in a direction coinciding with the balance of the controversies analyzed.
Downloads
Download data is not yet available.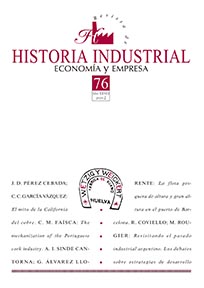 Downloads
License
El/la autor/a cede los derechos al/la editor/a. Creative Commons
El/la autor/a que publica en esta revista está de acuerdo con los términos siguientes:
El/la autor/a cede en exclusiva todos los derechos de propiedad intelectual al/la editor/a para todo el mundo y toda la duración de los derechos de propiedad intelectual vigentes aplicables.
El/la editor/a difundirá los textos con la licencia de reconocimiento de Creative Commons que permite compartir la obra con terceros, siempre que éstos reconozcan su autoría, su publicación inicial en esta revista y las condiciones de la licencia.